This slideshow requires JavaScript.
---
Location: Adma, Lebanon
Area:
4 floors: 1 200 m2
2 basements: 1 700 m2
Land: 1 000 m2
Year : 2015
---
Awards
CNBC Arabian Properties Awards: 5 stars winner in the Residential single unit section
World Architectural Festival Awards 2009: Shortlisted in the Residential- Future Projects category
---
---
Architecture: Nabil Gholam Architects
Concept design: Nabil Gholam Architects and Roula Moharram
Structural design: Selim Chemaly
Electro-mechanical design: Barbanel Middle-East
Landscape design: Vladimir Djurovic Landscape Architecture
Photography: © Richard Saad
---
---
The house is located on a 1050 m2 parcel on the Maamltein cliff with a spectacular open sea view of the Jounieh bay.
The program consists of a family main residence that functions both as private (family spaces) and public (social gathering).
Due to the density of the program the volume was limited to a compact figure that would occupy only the third of the land, allowing simultaneously for terraces, a garden and a no-edge pool that extends horizontally at the edge, creating an "infinity" effect with the sea.
The volume consists of a cube punctuated with elements such as suspended gardens and corner openings creating a series of different landscape frames with variable situations.
Carved out the building bulk at the south-east is a double height patio that intensifies the spatial experience of the view, then at the north-west along different levels a triple-volume louvered patio that creates a link between the family bedrooms yet maintaining privacy. The master bedroom occupies the entire top floor acting as a luxurious suite with flexibility between the sleeping area and the bathroom that both extend to a cover / open terrace and a plunge pool on the roof.
Nabil Gholam Architects
---
---
Nabil Gholam Architects
---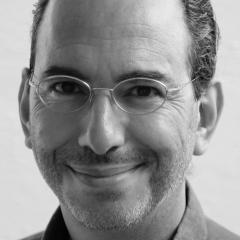 Nabil Gholam studied Architecture at the UP-Paris Villemin, ex-Ecole des Beaux Arts in Paris before moving to New York six years later to complete his studies in Urban Planning at Columbia University in the City of New York.
Moving from Manhattan to Barcelona, via southern China, where he briefly taught urban planning at the Yunnan Institute of Technology through the Kinney Fellowship, Nabil Gholam first began to practice architecture professionally at Ricardo Bofill's Taller de Arquitectura, where as an Associate, he rose to handle the practice's international projects.
In 1994, he set up his own office in Beirut. Later, in parallel with the firm's growing reach, a European office was established to better direct its international ventures, first in Barcelona in 2006 before relocating to Seville in 2010.
Used to living in flux, Gholam has led a nomadic existence since the outbreak of civil war in Lebanon in 1975, his work and travels taking him on a circuit between Beirut and Paris, New York, Chicago, Yunnan, Barcelona, Istanbul and Seville and this constant criss-crossing of the globe has had a profound impact on his work.
Today, nabil gholam architects has grown into an international multidisciplinary team of architects, planners, designers and consultants with a portfolio spanning an extensive list of projects in architecture and urbanism. ngª has attracted attention, winning several competitions and major international awards.
---
CONTACT
Lebanon
jisr el-wati, street 90
building 110, 2nd floor
beirut 2066 8421
Lebanon
t: +961 1 423 513
f: +961 1 423 510
download location map
navigate google maps
Spain
paseo de  las delicias 3, 3º Dcha
41001 sevilla
Spain
t:+34 95  421 33 56
f:+34 95  421 81 32
---
VISIT
---